A casual enquiry at the Golden Threshold by a Research Scholar in Film lyrics in the University of Hyderabad proved to be the doorway of the Stage for Vinay in Theatre. The Research Scholar was Dr. D.K. Goel for whom Vinay is ever indebted to. The Golden Threshold then housed the Humanities and Social Sciences. Vinay, after two futile attempts at becoming a medical professional, had shifted to Social Sciences. Ironically, he topped the entrance examination earning a Merit Scholarship.
The first reading of the Play impressed 'Goel Saab'. However, the Greenhorn that he was, there was not much headway beyond a point. Since, the day of the show was fast approaching, Goel Saab decided to rope in an old hat, who after looking at his bearded appearance insisted that he should persist with Vinay. Left with no other choice, the Play – "Coffee House Mein Intezaar", by Dr. Lakshmi Narayan Lal was staged at the Salarjung Hall, Nizam College, Hyderabad on the 14th of September (Hindi Diwas) 1980 and there was no looking back for Vinay. That also happened to be the day he was introduced to a kurta pyjama clad middle-aged man, who had a cloth bag slung on his left shoulder, sitting under a peepal tree. He was Bhasker Shewalkar, the man who would be his Guru and have a profound influence on Vinay's Theatre career.
The Theatre bug had now bitten him, He started putting up short plays by himself with unconditional support from a few friends in Golden Threshold.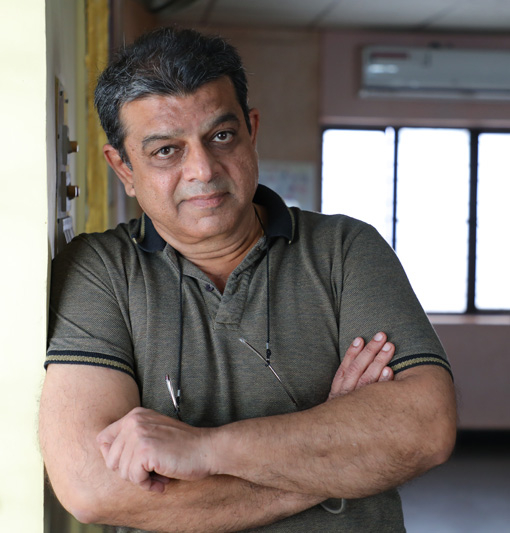 Moving ahead, career-wise he dropped out of his research work in Medical Sociology, but continued doing theatre by joining Rangadhara, which eventually became his nursery. The bond with the two of the four pillars of the Organization – Anant Kulkarni and Bhasker Shewalkar – was to be for a lifetime. The two moulded Vinay into what he's best known as today – a disciplined soldier of theatre.
Meanwhile, working in various Private and Govt. organizations to make ends meet, vinay sacrificed a lot of personal space to be on stage.
On the media front, he debuted with EK KAHANI, the primetime TV series in 1985. And contemplating the obvious suggestions that he shift to the then Bombay, Vinay ultimately decided that if he's to make a name he would rather do that in a relatively art-deprived city and make it proud. And indeed, with his untiring efforts and unbridled commitment, he put Hyderabad on the Country's theatre map.
He has had the privilege of working under the direction of his Guru Prof. Bhasker Shewalkar for the maximum no. of plays. He also worked under the direction of stalwarts like Tej Rajendra Singh, Venugopal, Dr. Pradeep Kumar Rathod, Dr. Rammohan Holagundi and Vaishali Bisht.
Been a part of about 80 plays, of which 60 exclusively as an actor, 28 as an actor-director and 14 exclusively as a director. He also wrote the lyrics for a Grips Theatre play titled "Khelen to kahaan khelen", an Indian adaptation of Rainer Hachfeld's "Balle", "Malle", "Hupe und Artur", from Roy Kift's English translation "Bizzy, Dizzy, Daffy and Arthur"
During the course, Vinay dabbled with free lancing for various newspapers covering culture, theatre, and cinema.
The early '90's saw the Telugu film industry move to Hyderabad from Chennai, and he was distressed to see a lot of talent being imported from Mumbai. Therefore, with the purpose of training, nurturing, and promoting home-grown talent, he along with a few friends launched a one-stop platform – Sutradhar.